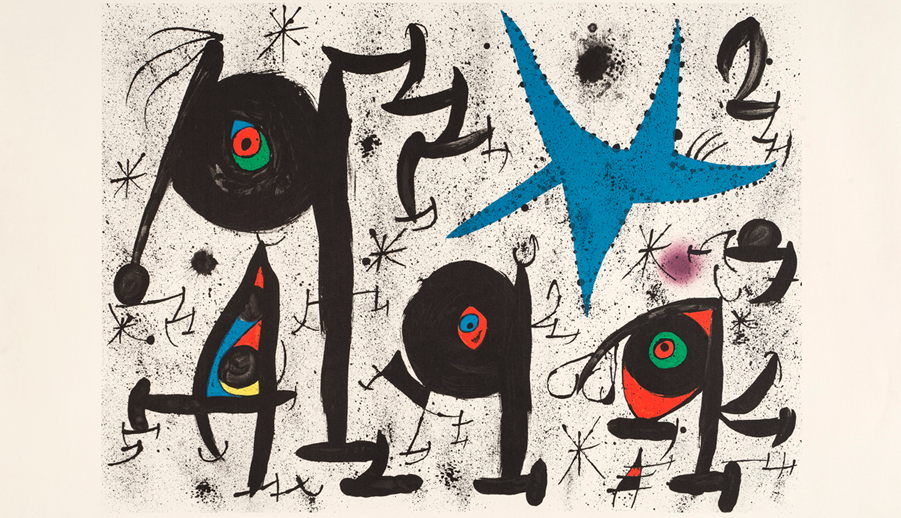 The exhibition on Mirò al Pan di Napoli tells an artist's life in 80 works!
The exhibition "Joan Mirò. The Language of Signs " will be at the Pan di Napoli from 25 September 2019 to 23 February 2020 to create one of the most important art collections of this artist ever. In 80 works a life dedicated to art will be told, from 1927 to 1986, decidedly productive for an artist who has ranged from painting to sculpture, without of course forgetting collages and tapestries.
"Joan Mirò. The Language of Signs " it is a long journey from Porto, Portugal, to Naples with eighty works of art of great artistic value including paintings, sculptures, collages, tapestries and drawings that go to create a vivid slice of his soul. His artistic vein has made him a unique artist of his kind, creating dreamlike universes with an extremely creative spirit. Naples and its citizens can enjoy this exceptional exhibition thanks to the great work of the Serralves di Porto Foundation and COR, Building Organize Realize. The exhibition was also curated by Robert Lubar Messeri of the Institute of Fine Arts in New York under the guidance of Francesca Villanti.
Mirò at the Pan of Naples it represents a great opportunity for those who need to nourish their soul with culture and art of the highest level.
Information Mirò at the Pan of Naples
Where: PAN Via dei Mille 60, 80121 Naples
When: from 25 September 2019 to 23 February 2020, closed on Tuesday
Timetable: from Monday to Saturday from 9,30 to 19: 30, Sunday from 9.30 to 14.30
Prices: in update
For info on Mirò al Pan consult the Facebook page of the event | 081 / 7958601 - 334 1324281 | email: info @ mostramironapoli.it
credit img informacitta.net
[Votes: 2 Media Rating: 3 / 5]