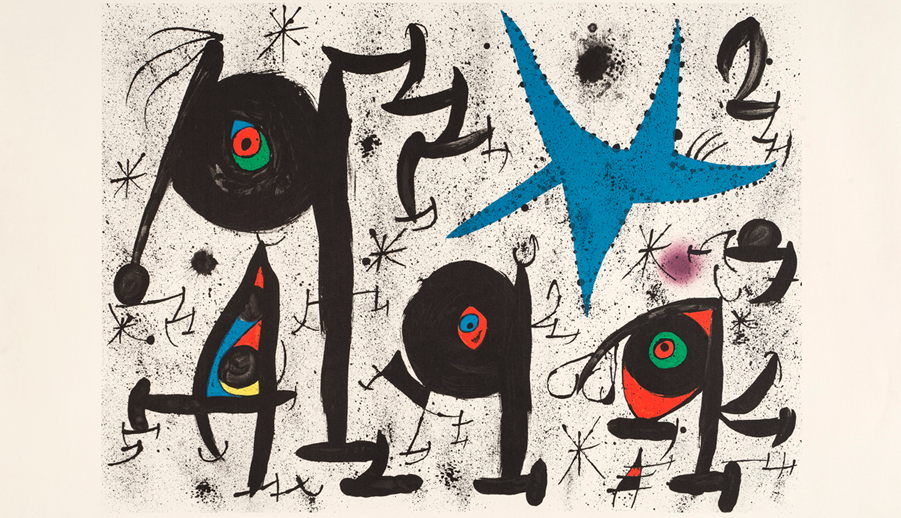 The exhibition on Mirò al Pan di Napoli tells an artist's life in 80 works!
The exhibition "Joan Mirò. The Language of Signs " will be at the Pan di Napoli from 25 September 2019 to 23 February 2020 to create one of the most important art collections of this artist ever. In 80 works a life dedicated to art will be told, from 1927 to 1986, decidedly productive for an artist who has ranged from painting to sculpture, without of course forgetting collages and tapestries.
"Joan Mirò. The Language of Signs " it is a long journey from Porto, Portugal, to Naples with eighty works of art of great artistic value including paintings, sculptures, collages, tapestries and drawings that go to create a vivid slice of his soul. His artistic vein has made him a unique artist of his kind, creating dreamlike universes with an extremely creative spirit. Naples and its citizens can enjoy this exceptional exhibition thanks to the great work of the Serralves di Porto Foundation and COR, Building Organize Realize. The exhibition was also curated by Robert Lubar Messeri of the Institute of Fine Arts in New York under the guidance of Francesca Villanti.
The sections of the exhibition
The exhibition is divided into 9 sections that guide us in the most important points of Mirò's career.
Sign language
This section shows the use that Mirò makes of the contour line, as writing, and of the horizon as an indicator of space. It starts from the Ballerina picture of the 1924.
The figure in the representation
From the beginning of the 20 years, the figure is the favorite subject of Mirò's research which has undermined the logic itself. To attack Western illusionism, he chose Raphael's La Fornarina.
The figure in the background
On the surface of his canvas take shape birds, astral bodies, fantastic creatures. The figure is evoked by marks and stains on the rough canvas.
Collage and the object
Mirò is one of the great representatives of the collage of the twentieth century and already in the 1919 he gives proof of this by including a piece from the newspaper La Publicidad, from Barcelona, ​​in one of his paintings.
The wild paintings
They are the expression of his anger towards a society in which madness and hatred predominate, leading to war. The Paintings on Masonite, by 1936, are an example.
The elasticity of the sign
The sign is the graphic gesture, now, they also take precedence over meaning.
Calligraphy and gestural abstraction
Japanese calligraphy and the emergence of Action Painting in Europe and America influence Mirò in his new way of painting.
The materiality of the sign
In the spring of 1973 he collaborates with the weaver Josep Royo and creates works that are placed halfway between painting and sculpture. Mirò incorporates common objects in cotton, jute, hemp and wool wefts.
The burnt canvases and the death of the sign
Still with the weaver Royo, in December 1973, made five burned canvases. first cut the surface, then apply pigment masses to various areas and spread the surface with a torch. In this way, it makes the frame of the carbonized frame visible and adds more paint, restarting the process.
Information Mirò at the Pan of Naples
Where: PAN Via dei Mille 60, 80121 Naples
When: from 25 September 2019 to 23 February 2020, closed on Tuesday
Timetable: from 9,30 to 19: 30
Prezzi:
Click on the buttons to expand the information
Prices show
Full € 12,00
Reduced € 8,00
under 26, over 65, employees of the Municipality of Naples, holders of Carta Più and Carta MultiPiù laFeltrinelli, CRAL Regione Campania
Reduced € 8,00 groups
minimum 15 maximum 25 people, one free per group (reservation required at no additional cost)
Reduced children € 5,00
from the 6 14 years
Reduced € 5,00 schools
for school groups up to a maximum of 25 participants, two free tickets per group (reservation required at no additional cost)
Tribute
children under 6 years, people with disabilities with a carer, Campania Region tourist guides, accredited journalists.
Promotions
Special Italian FS Offer: discounted admission to the exhibition with Trenitalia
2 × 1: two admission tickets to the exhibition for the price of one for holders of CartaFreccia in possession of Le Frecce ticket with destination Naples (travel date prior 3 days date visit to show)
Offer singles: reduced ticket reserved for holders of CartaFreccia singles in possession of ticket Le Frecce with destination Naples (travel date prior 3 days date visit to show)
Special Monday university
Every Monday (except public holidays) university students with ID cards (no age limit) can access € 6,00 with a ticket.
Special groups for the first month of opening
For groups and schools that will visit the exhibition by 30 October, a promotion with a reduction on the ticket is reserved: € 7,00 groups (instead of € 8,00); schools € 4,00 (instead of € 5,00)
Audioguide
Adults € 4,00
Children € 2,50
Educational workshops, guided tours, creative courses
Designed and manufactured by PANkids
€ 4,50 per student for schools;
€ 5 on Saturdays and Sundays;
€ 10 from Monday to Friday in the afternoon.
Hours for schools, from Monday to Friday morning: Reception hours 9.30; guided tour and workshops: from 10 to 12,30 Afternoon hours: Monday to Friday, 14,00-16,30; hours 16,30-19,00
Weekend opening times: Saturday and Sunday: 10,00-12,30 hours; 16,30-19,00
Other times: to be agreed upon request, as required.
Guided tours
Schools 50,00
Adults € 80,00
EXECUTIVE GUIDED TOURS
Every Saturday at 17.00 - All Sundays and holidays at 11.30 and 17.00
Adults € 6,00 - Children € 3,00
Guided tours will take place when at least 8 adult participants are reached.
Catalogue

Gangemi publisher € 20,00
Info and booking: Facebook page of the event | 081 / 7958601 - 334 1324281 | email: info @ mostramironapoli.it
credit img informacitta.net