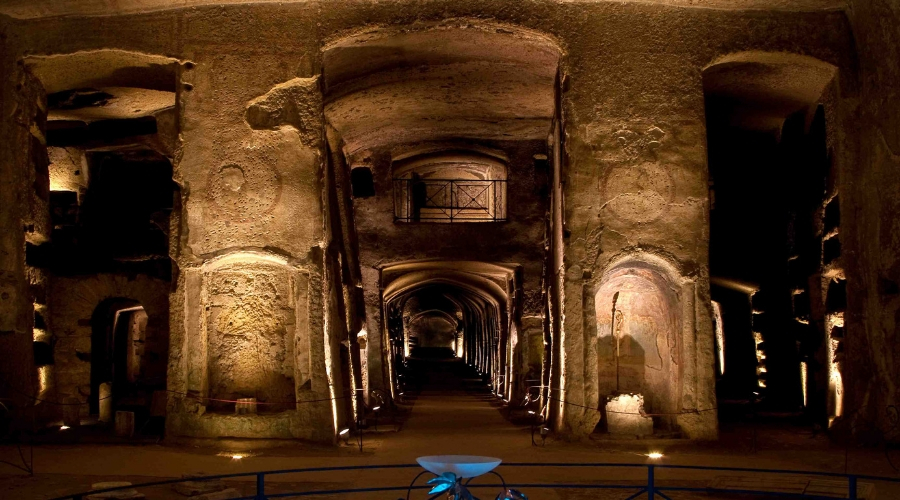 At the Catacombs of San Gennaro in Naples a new appointment with AperiVisite: evening visits to the most important monument of Christianity and aperitif are scheduled!
It starts Saturday January 11 2020 and for all Saturdays of the current month by appointment, a new appointment with AperiVisite, the evening visits in the suggestive Catacombs of San Gennaro in Naples.
The event has been taking place for some time now and will offer you the special opportunity to get to know one of the most suggestive underground caves in Naples and Southern Italy, to discover arcosoli, mosaics and frescoes, between magic and mystery.
In fact, through these evening visits you can participate in a real journey through time to discover one of the most important monuments of the Christianity in Naples.
How to participate in AperiVisite
This is a truly exclusive event, which will take place only by reservation and which will also offer you a gourmet moment proposed by Birra KBirr, producers of the Neapolitan craft beer dedicated to San Gennaro.
The visits will take place on Saturday 11 January 2020 for two shifts, at 20:00 and 21:00 and every Saturday in January but only by reservation, so it will be necessary and mandatory to book.
Information AperiVisits to the Catacombs of San Gennaro
When: from Saturday 11 January 2002, every Saturday by reservation
Where: Catacombs of San Gennaro, Via Capodimonte, 13, 80100 Naples
Hours: 20:00, 21:00
Price: ticket 13 euros, children up to 12 years free
Contacts: facebook event | 0817443714 | reservations@catacombedinapoli.it