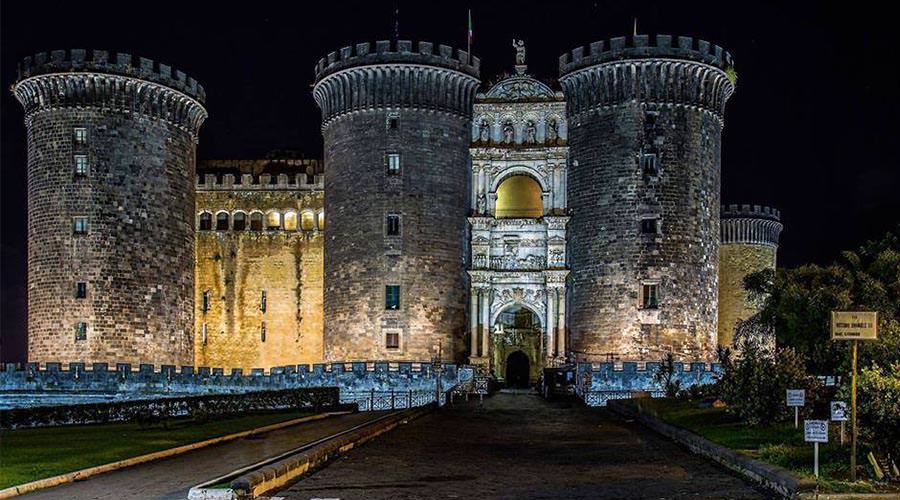 Special appointment in Naples with the #ARTerie event: over 100 events including music, theater, dance and cinema in some of the most beautiful places in Naples!
Since 23 July at the 13 September 2020 the project will take place #arteries with over 100 events including music, dance, theater and cinema and which will involve different locations in the city of Naples, as part of the Summer in Naples.
Just as the arteries carry blood from the heart to the other tissues, this fantastic project will allow the circulation of events and ideas from Maschio Angioino to all other places in the city of Naples, which is imagined as a single body, as stated by the Councilor for Culture and Tourism of the Municipality of Naples Eleonora de Majo.
All the places of the #ARTerie project
There will be many places involved in this beautiful project starting from the Maschio Angioino where a long review of theater will take place with many guests, then again the Villa Comunale, Poggio ai Colli Aminei Park, Attianese Park in Pianura, Nest's Courtyard, Troisi Park and many others, until the final day to be held in Piazza Garibaldi. All the shows will be free but reservations will be required.
The #ARTerie program
Here are the main events. To know the complete program, consult the link at the end of the article (before the summary mirror).
Poggio Park, 21:00 pm
Il program of all shows and concerts is in our article on the Parco del Poggio.
Maschio Angioino, 21 pm
Laugh 2020, Comic Theater and Cabaret Festival
13/08 - Francesca Marini
14/08 - Peppe Iodice
15/08 - Massimo Masiello
16/08 - Lino D'Angiò
20/08 - I Tell You
21/08 - Federico Salvatore
September at the Castle IV edition
03/09 - "The day of the dead" by Maurizio de Giovanni. With Paolo Cresta and Ramona Tripodi.
04/09 - "The last eclipse". Taken from Stephen King. With Rosaria De Cicco. Dramaturgy and direction Annamaria Russo.
05/09 - "A pure formality" by Pascal Quignard. With Nico Ciliberti, Marco Palumbo, Alfredo Mundo.
06/09 - "Tabos Pereira" by Antonio Tabucchi. With Paolo Cresta and Rocco Zaccagnino.
By reservation only to: info@gabbianellaclub.it - ​​347 3977208
Annunziata Courtyard, Nest Theater Courtyard, Pietrarsa Arena, Troisi Park, Macadam Courtyard Coordination of Jesce Sun 21 pm
30/07 Nest Theater Courtyard - Cinema: The Mayor of the Rione Sanità, directed by Mario Martone
31/07 Courtyard of the Annunciation - Theater: Daily inspirations, With Francesco di Leva and Adriano Pantaleo
1/08 Arena of the Railway Museum of Pietrarsa - Theater: Giovanni Esposito in EXIT
2/08 Courtyard of the Annunciation - Music: Tony Tammaro in "Sociology is under my house"
8/08 San Giovanni a Teduccio - Courtyard of Macadam - Theater: Bustheatre
9/08 Arena of the Railway Museum of Pietrarsa - Music: Ciccio Merolla in "I'm just Sound"
13/08 Nest Theater Courtyard - Cinema: Oceania by Ron Clements and John Musker
14/08 Arena of the Railway Museum of Pietrarsa - Music: Emilia Zamuner and Massimo Morriconi
By reservation only: jescesole02@gmail.com - 081 5520906 - 3388176452 (whatsapp)
Municipal Villa, Attianese Park at 21:00
24/07 Villa Comunale -Cinema: Cyrano Mon Amour
25/07 Municipal Villa - Music - Summer Live Tones Review: Daniele Scannapieco organ trio with Alessio Busanca, Luigi Del Prete
26/07 Municipal Villa -Theater: Where there is the sea with Antonella Morea
30/07 Municipal Villa - Music - Summer Live Tones Review IX edition Bossa Brand with Maria Enrica Lotesoriere, Pippo Lombardo, Antonio Grimaldi, Fabio Delle Foglie
31/07 Villa Comunale - Cinema: 365 Paolo Fresu, the time of a journey
06/08 Plain of the Attianese Park - Music: Argiento Vivo with Carlo Faiello
07/08 Plain of the Attianese Park - Cabaret: Face, Mask and Mask! with Lino D'Angiò
08/08 Plain of the Attianese Park - Cabaret: with Ivan & Cristiano
09/08 Plain of the Attianese Park - Theater: The fact is this ... Listen to me with Diego Sanchez
13/08 Plain of the Attianese Park - Cinema: Welcome
Reservations required: info@ravellosrl.com
Information on ARTerie in Naples
When: from 23 July to 13 September 2020
Where: different places in Naples
Hours: 21 hours: 00
Price: free admission