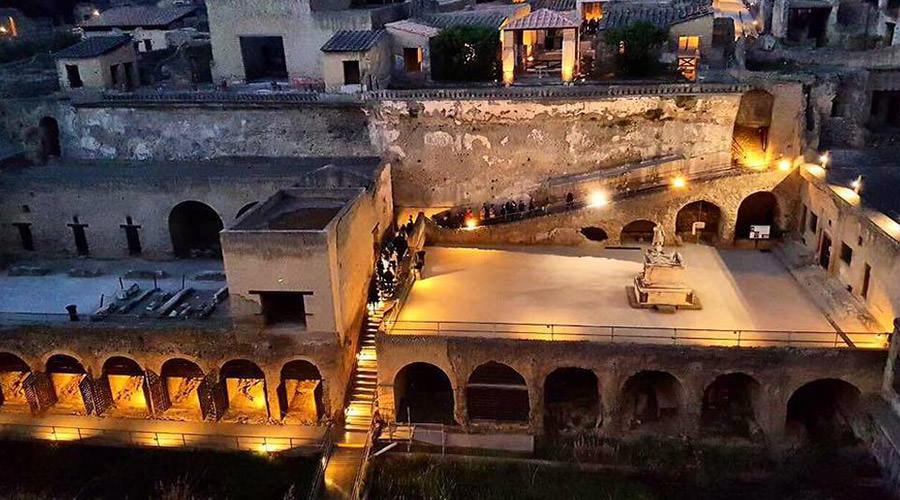 In the Archaeological Park of Herculaneum special evening guided visits to the excavations with suggestive plays of light and tableaux vivants!
After the suspension at the beginning of September, the special appointment with i Friday of Herculaneum, the specials evening guided tours inside the Archaeological Park. In particular, the 18, 19, 25 and 26 September 2020 where guests can have the opportunity to visit the excavations in the evening.
The event is part of the initiatives organized for the review Campania By Night, organized by SCABEC Regione Campania in collaboration with MIBACT, the Archaeological Park of Ercolano and the Municipality of Ercolano.
Evening visits to the Archaeological Park of Herculaneum
Thanks to the initiative The Fridays of Herculaneum all guests will have the opportunity to participate in evening guided tours to discover the wonderful archaeological site.
To make the visit even more suggestive and exciting there will be along the way projections of lights and repropositions in videomapping of some of the most beautiful sculptures from Herculaneum starting from the Bourbon excavations.
There will also be i tableaux vivants which will be linked to the mythological figure of Hercules from which the name of the city derives. The guides will tell the historical events of Hercules, from his birth to the famous twelve labors, up to the Assumption in Olympus.
The rules to be respected
To participate in the evening appointments in the Herculaneum excavations it will be necessary make a reservation and to avoid gatherings outside the ticket office it is highly recommended to buy tickets online to the site indicated in the information mirror until 18:00 on the day of the visit. A maximum of 19 visits are allowed per evening. Guided tours will be divided into time slots and made up of a maximum of 10 people. The 21:30 pm shift will include the possibility of visiting in English.
Tickets that are unsold at 18 pm can be purchased at the Park ticket office which will be open until 00 pm on the day of the visit. Throughout the guided tour which will last 23 hour will be it is mandatory to wear a mask.
Guests can use the car park at the Rodinò School in Via IV Novembre and the Iovino Scotellaro School I Traversa Via IV Novembre. Access is exclusively from the monumental entrance of Corso Resina.
Information on evening visits to Herculaneum
When: 18, 19, 25 and 26 September 2020
Where: Herculaneum Archaeological Park
Hours: from 20:00 to 24:00 with departures every 10 minutes. Last departure at 23pm
Prezzi:
Full ticket 5 euro
Reduced ticket 2.50 euro (under 30, over 65, Campania Artecard holders)
Free but with compulsory presale under 18, disabled
The ticket price for the evening of 26 September, which is part of the events of the European Heritage Days, will have the symbolic cost of 1 euro.