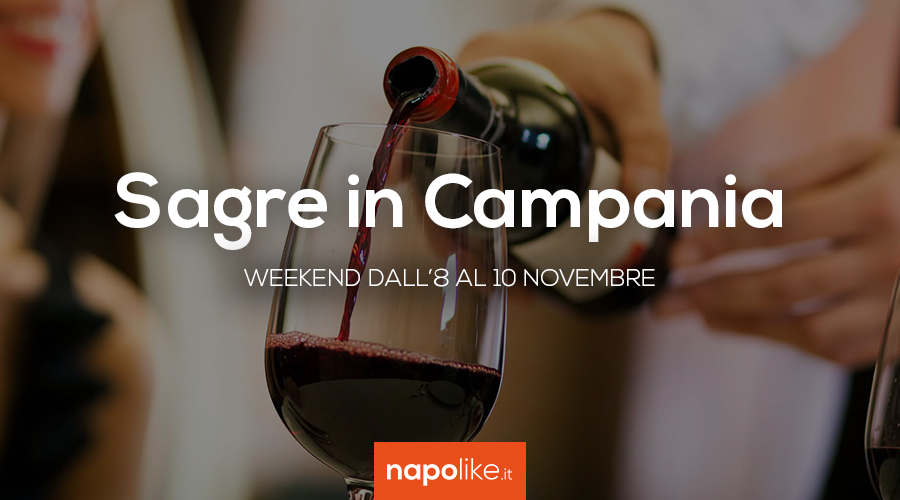 New events with the festivals in Campania also during the weekend from 8 to November 10 2019 with new wine, chestnuts, mushrooms and tammorre!
Don't miss the delicious this week too festivals in Campania, among chestnuts, new wine and more. In weekend from 8 to 10 November 2019 there are some appointments that will make you refresh.
As we have been saying for a few weeks now, this is a chestnut season and certainly the Chestnut festival in Montella is at the top of these gastronomic events with its tasty dishes to taste.
In San Giuseppe Vesuviano, however, there is the Mushroom festival accompaganta from Night of Tammorra.
Finally, in San Clemete di Galluccio, in the province of Caserta, there is the feast of the newbie for wine lovers.
Here are the Festivals in Campania at the weekend.
---
Mushroom Festival and 2019 Tammorra Festival in San Giuseppe Vesuviano, Naples

The Mushroom Festival and the 2019 Tammorra Festival will enliven San Giuseppe Vesuviano in the second weekend of November
The Mushroom Festival and the 2019 Tammorra Festival will be held in San Giuseppe Vesuvianoeight and nine November 2019, entering the annual celebrations in honor of St. Leonard of Noblac. THE'event is free and will bring to San Giuseppe Vesuviano all the flavor of the local gastronomy and the ancient, involving traditions from popular music.
---
Chestnut Festival of Montella 2019: tradition and culture in the sign of taste

The Montella 2019 Chestnut Festival will open in November with many food stands.
Like every year there Chestnut Festival of Montella It will be a free event which will take place during the 2 weekend: from 1 at the 3 November and by '8 at the 10 November 2019. The inauguration will be held on November 1 at 18: 00. At the center of the festival is the history of a territory, its traditions and its agricultural and food heritage.
---
Festa del Novello 2019 in San Clemente di Galluccio: wine, roasted chestnuts, pasta and sweets

In November San Clemente di Galluccio returns to perfume of wine and chestnuts
The Festa del Novello of San Clemente di Galluccio, in the province of Caserta, will take place from 9 at the 10 November and, in case of bad weather, it will be postponed to the following weekend of November 16th and 17th XNUMX. a free event now in its seventh edition and an unmissable opportunity to discover and appreciate the excellent wine and gastronomy of the area.