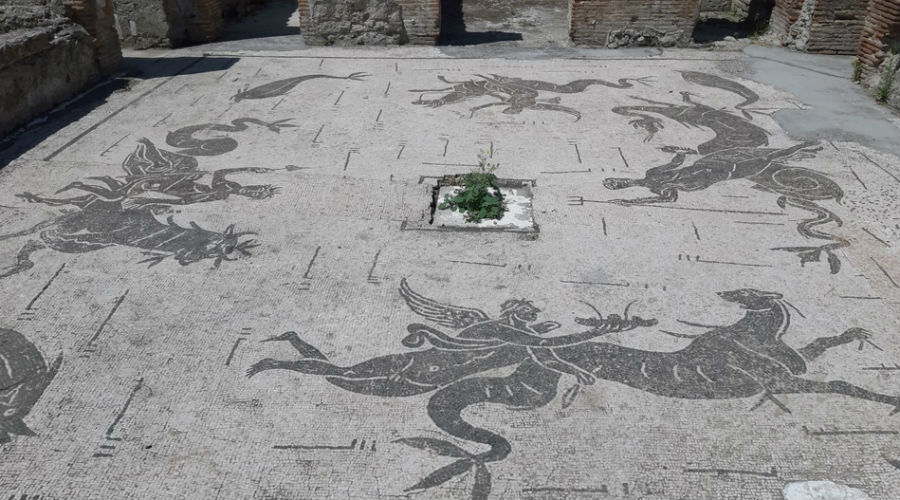 In September 2020 the appointment with free guided tours of the Roman Baths of Via Terracina in Naples is renewed, between history and beauty!
Saturday 12 and Sunday 13 September 2020 they resume appointments with visits free guided tours to the Roman Baths of Via Terracina, in the Fuorigrotta district of Naples.
Free guided tours are organized by Neapolitan Archaeological Group which will allow you to visit a truly suggestive archaeological complex where you can observe fascinating mosaics dating back to the XNUMXnd century AD as well as the remains of houses.
The Roman baths of Via Terracina
The plant organized on two levels was probably powered from the Serino aqueduct. It is a structure dating back to the second half of the II century AD and still today, along the road that led from Neapolis to Puteoli, it preserves all the supply system of the warm environments and the mosaic floor decorations, which are subjected to continuous maintenance and cleaning.
The anti Coronavirus regulations
To participate in the free guided tours it will be necessary make the reservation, using the form on the site, to limit the influx of people and respect social distancing. The visits will take place in several shifts and with a maximum of 20 people at a time. The use of the mask is mandatory.
How to reach the complex
The entrance to the archaeological complex is located on Via Terracina, in front of number 429. Here's how to reach the Terme di Via Terracina:
Metro line 2 for Campi Flegrei or Ferrovia Cumana for Mostra, both stops about 1 km from the complex (exiting the stations, go along the stadium on the left and take via Marconi, the RAI road, until you reach via Terracina: the site is found immediately on the right).
ANM Service: from Piazza Garibaldi, line 151 with stop outside the entrance of the Mostra d'Oltremare (Piazzale Tecchio - Mostra). Line frequency 18-21 minutes.
By car the complex is easily accessible from the Tangenziale di Fuorigrotta exit, with the possibility of parking in the area.
Information on free guided tours
When: 12 and 13 September 2020
Where: Roman Baths, via Terracina, Naples
Schedule:
12 Settembre: 15:00-16:00-17:00
13 Settembre: 10:00-11:00-12:00
Price: free