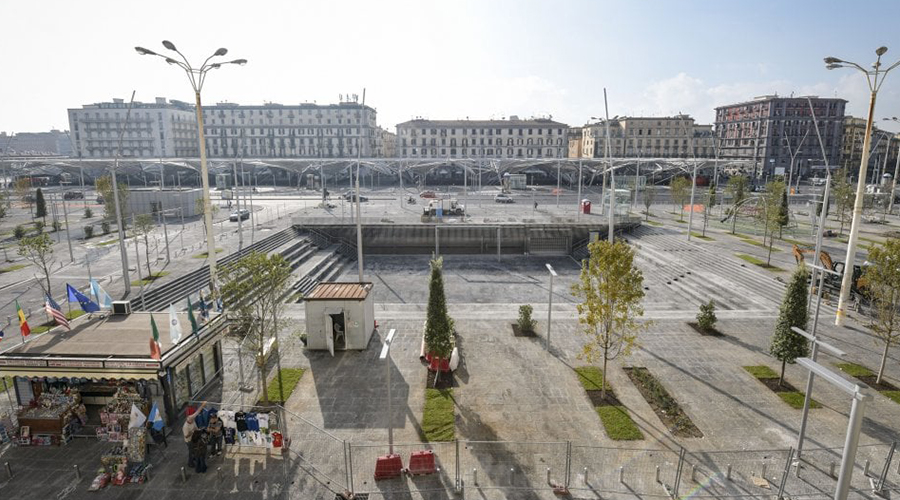 Here is the new Piazza Garibaldi in Naples, inaugurated with many trees, underground parking and new spaces of culture, leisure and sport!
Friday 29 November 2019 was inaugurated the new Piazza Garibaldi in Naples, in the presence of the Minister of Infrastructure and Transport, Paola De Micheli, mayor Luigi De Magistris, who said he was very satisfied with the work done.
The Piazza, now, is finally a large public space full of trees, with play areas and for the sport, with many shops and spaces for culture and leisure.
The new Piazza Garibaldi: many spaces and activities
Specifically, Piazza Garibaldi contains well 130 trees, a huge space with lots of play areas, numerous commercial spaces which currently require 8 box for which a call for tenders will be established, one new agora, a large underground car park, sports areas, fun, culture and a new lighting.
Ordinary and extraordinary maintenance
As always specified by the mayor, it will be Naples subway to take care of ordinary maintenance and the public green in Piazza Garibaldi. There maintenance, also by the Metropolitana, will be previously agreed with the Municipality and municipal irrigation systems will be used free of charge for water the plants.
Safety and cleanliness in Piazza Garibaldi
Il Local police service is guaranteed 24 / 24, even with the video surveillance system. Instead, the service of local night police will be carried out by FS Sistemi Urbani srl, Rete Ferroviaria Spa and Grandi Stazioni Rail spa from hour to hour 22.00 6.00.
Finally, the Municipality is also committed to enhancing the cleanliness of the Piazza and the sidewalks.
Photo Gallery
Here are some photos of the new Piazza. Click on the image to enlarge.
There is great enthusiasm for this inauguration and we hope that the new Piazza Garibaldi is a useful and beautiful public space for citizenship.
Source: Luigi de Magistris
Photo: Riccardo Siano