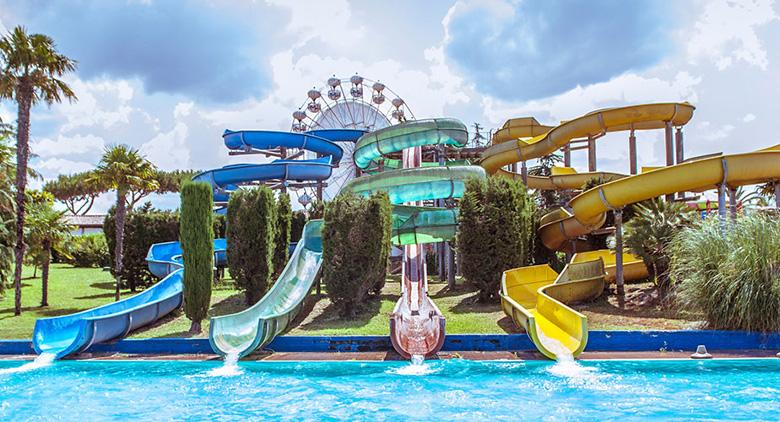 A Licola, in the area that was the Magic World, opens to the public Pareo Park, the largest water park in Southern Italy!
Notice: since 25 June 2019 the Parko has temporarily closed to allow the activities necessary to solve the problems related to skin reactions manifested on some children.

***
The 1 ° July 2017 inaugurates a Licola il water park Pareo Park, a space of over 300.000 square meters divided into two areas: an aquatic park and a fun park, the latter active since October. Furthermore, a construction is planned Palazzetto della Musica with 20000 places curated by Mogol, and it will be the largest in the south.
With Pareo Park, whose investment has been of 50 million and rising on the ashes of the Magic World, Campania regains possession of one of its classic summer gatherings. A park that promises joys in complete safety, to spend a day of fun with friends or family.
The attractions of Pareo Park
Water attractions
The water park includes 7 pools and 17 water attractions, including "Anaconda", 4 slides from 12 meters, Suicide bomber, that is a descent of 20 meters, and the fun "Family Rafting and Niagara", descent on maxigommoni. Furthermore, there are hydrants, tube slides and maxi-boats.
green areas
Numerous le green areas inside the park, including the lagoon space, an entire play area for children, and vast food and beverage space with 23 activities between bars and restaurants.
Refreshment areas
There will also be a photographer, a bazaar, an self-service that will prepare up to 3000 meals a day, from the most traditional dishes to Asian and Russian products, one ice-cream shop and fresh fruit, all prepared in new kitchens. The lawn, irrigation system and electrical systems will also be redone.
There will be environmental education paths thanks to UNICEF which supports the project.
Palazzetto della Musica with the direction of Mogol
As explained further in one of our articles, it will be great master and lyricist Mogol to manage what will be the biggest Palace of Music in Southern Italy and that is expected in Pareo Park. Mogol will also follow i music training courses for young artists of the territory and a fine program of concerts and shows will be developed.
Pareo Park prices
Updated to the summer 2019.
From the 23 to the 29 June
working days 10 euro | reduced: 8 euro | afternoon from 14.00: 5 euro
holidays 14 euro | reduced: 10 euro | afternoon from 14.00: 5 euro
July
working days 12 euro | reduced: 8 euro | afternoon from 14.00: 6 euro
holidays 14 euro | reduced: 10 euro | afternoon from 14.00: 7 euro
August
from 1 to 9 August and from 26 to 31 August:
weekdays: whole 12 euro | reduced 8 euro | afternoon from the 14.00 6 euro
holidays: full 14 euro | reduced 10 euro | afternoon from the 14.00 7 euro
from 10 to 25 August:
whole 16 euro | reduced 12 euro | afternoon from the 14.00 8 euro
15 August:
whole 20 euro | reduced 14 euro | no reduction in the afternoon
1 Settembre
whole 14 euro | reduced 10 euro | no reduction in the afternoon
Always valid promotions
Children under 1 meter enter for free
Information on the Pareo Park Water Park
Where: Via Vicinale, Masseria Vecchia, Licola (Naples)
When: open from June to September

Hours: every day from 10.00 to 19.00
Contacts: Official Website | Facebook page | 081 804 8160

[Votes: 0 Media Rating: 0 / 5]