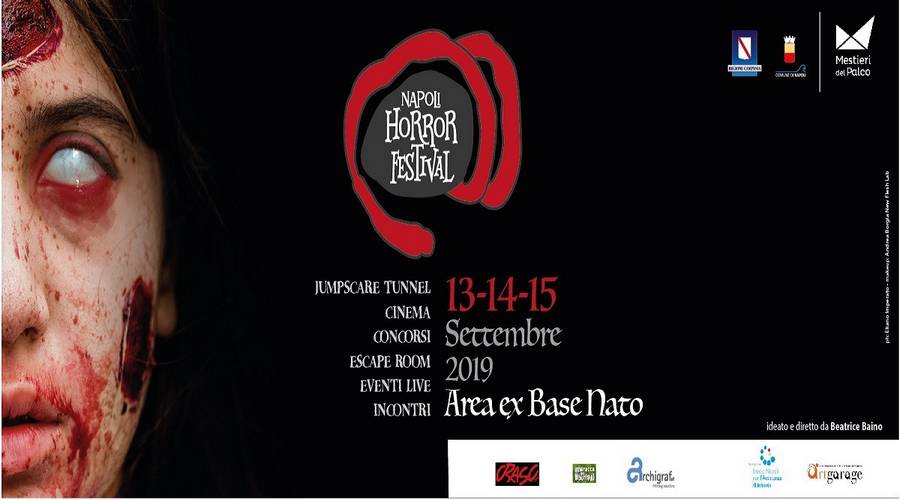 At the former NATO there is the Napoli Horror Festival, three "horrible" days of role-playing games, street artists, secret tunnels and cinema.
Il 13, 14 and 15 September 2019 the former Base Born of Bagnoli is the Naples Horror Festival, substantial review of films, games and street performers with a varied and dense program.
This is a very complete event e articulated which aims to aggregate and exchange experiences, information and news on horror world in its widest sense, from the written page to the screen, from cosplay to music.
All the folds of horror, therefore, through the literature, cinema, psychology, music, visual arts, street art, the circus.
For the film buffs, do not miss the screening of "The Exorcist", by William Friedkin and "Christine, the infernal machine", by John Carpenter.
The Naples Horror Festival program
Jumpscare Tunnel
We dive into one of the secret tunnels of the former NATO.
Forbidden to children, pregnant women and the faint of heart.
Escape Room
Ever wanted to transform your body? Have you ever imagined yourself to be perfect? A new product revolutionizes the world of aesthetics ... Forbidden to children of 18 years if not accompanied. Paid attraction with reservations required.
Trade shows
Horror in Italy in the 50 / 60 years: by the Associazione Nuovo Cinema Paradiso, it brings together posters and original posters from the genre films of the 50 and 60 years; edited by Alberto Bruno
"The sense of horror": a journey through the visionary and disturbing works of Artemisia Gentileschi, Goya, Francis Bacon, Shain Erin and many others; by Susy Penna
Performances and shows
Artgarage in Bella 'mbriana: choreography by Emma Cianchi; Apocalypse Parade: itinerant performance; Hell: fire show; The hour of air: traveling performance;
Animations by Campo 77
Adrenaline quenching; Apocalypse surgeon; Unleash the apocalypse; the Bunker
Friday September 13
Secret Naples: morning goal journalist goal Marco Perillo;
Screening of the film "Love at the last bite"By John Landis and de"The exorcist"By William Friedkin
Saturday September 14
Italy and horror cinema, new generations: with the director of "The end, the hell out" Daniele Misischia and Sergio Stivaletti, Italian effector, director and screenwriter. For over 30 years has created and created characters,
creatures and monsters for cinema, television and theater.
Award ceremony for short films
Film projection Buryng the ex by Joe Dante e Christine, the infernal machine - by John Carpenter
presentation and screening of the short Wash me, direction, subject and screenplay by Francesco Prisco
Sunday September 15
meeting on the subject Fear, exploitation and antidotes - Of horrors and other demons, edited by Massimo Piccolo and Birdland - suggestions, sounds and flavors of the written word, a format that transforms
the "written word" in the show, a mix in search of the right balance between narration, acting and singing.
parade and awarding of the best horror cosplay
finally it closes with the projection de The dawn of the demented dead, by Edgar Wright
and of War Word Z by Marc Forster
Information on the Naples Horror Festival
Where: to the former NATO Base
When: 13, 14 and 15 September 2019
Time: from the 16.00 24.00
Prices: 8 euro (can be purchased on Azzurro Service or directly at the box office on Festival days)
[Votes: 0 Media Rating: 0 / 5]