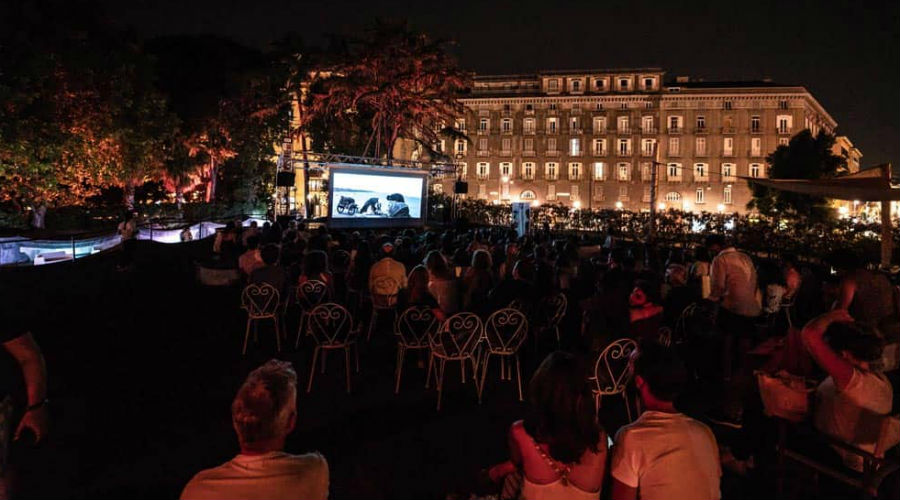 Thirteenth edition of the Napoli Teatro Festival: many events scheduled at the Royal Palace of Naples!
From 1 to 31 July 2020 the new edition of Naples Theater Festival, the show that will offer 130 outdoor shows in 10 beautiful locations in both Naples and Campania.
Among these there will also be the Royal Palace of Naples that starting from 7 to 13 July 2020 will host various events. In fact, the Napoli Teatro Festival has chosen it as the symbol of art, arranging three different stages in its magnificent courtyards that will host the various events.
It is therefore an event not to be missed that will take place for 7 consecutive evenings within the magnificent gardens of Palazzo Reale, you can spend a day full of music and fun.
The program
Here are the concerts scheduled from 7 to 13 July 2020, at 19:30 in the Carriage Courtyard of Royal Palace of Naples:
July 7
Maria Mazzotta with #amoreamaro
Maria Mazzotta, the talented singer from Salento will present her latest album Bitter love, accompanied by Bruno Galeone on the accordion.
July 8
Francesco Di Cristofaro- Komitas with #Armenia
Francesco Di Cristofaro, multi-instrumentalist and ethnomusicologist, proposes the result of his research on Komitas in piano concert. A work, released on CD with the classical music label DaVinci Publishing.
July 9
Valerio Sgarra #canzonedautore
Valerio Sgarra, author of songs in the wake of the great songwriting tradition that goes from Paolo Conte to George Brassens. He won the last De André prize and his album is out.
July 10
Ars Nova #traditional
Ars Nova, an engaging and suggestive sextet consisting of: Voice, guitar, double bass, accordion, mandolin, violin and percussion. They play traditional music from southern Italy and regularly perform in Europe.
July 11
Ciro Riccardi-Napoli underground #nujazz
After the vinyl Tales album, the jazz musician Ciro Riccardi is working on new musical visions that start from the Greek roots of Neapolitan musicality.
July 12
Ebbanesis #teatrocanzone
EbbaneSis, female vocal duo who gained success first thanks to the diffusion of their interpretations via the web and subsequently through numerous concerts even in Russia and the United Arab Emirates.
July 13
Taraf De Funikular # folk'n'roll
Taraf de funikular, trio to perpetual work on Eastern European music, territories in which they traveled coming into direct contact with local musicians.
Information on Napoli Teatro Festival 2020
When: from 7 to 13 July 2020
Where: Royal Palace of Naples
Timetable: 19: 30
Price: 5 euro ticket