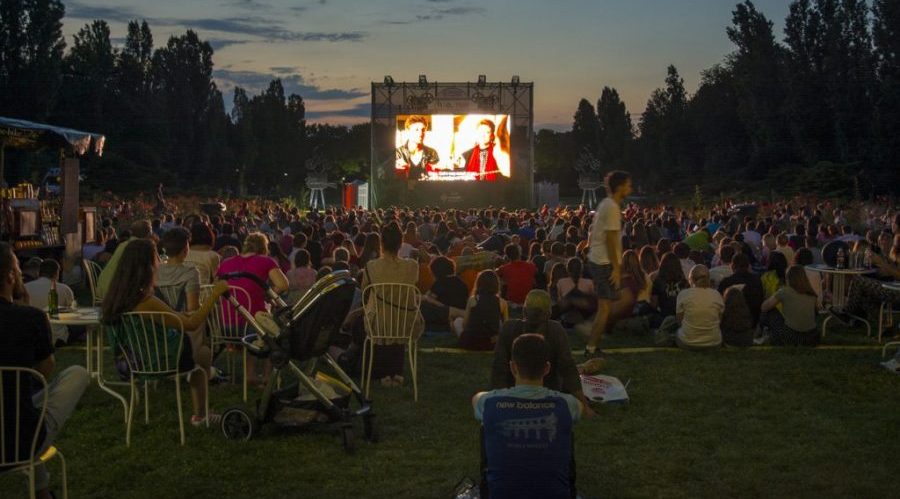 In the former Nato di Bagnoli in Naples, outdoor cinema arrives under the stars with two large screens!
This year theArena Modernissima moves to the area of ​​the former Nato di Bagnoli a Naples to propose the open-air cinema evenings that normally took place in the Parco del Poggio.
Inside have been prepared two large arenas with two screens so two films can be seen every evening. It starts on the weekend from 26 to 28 June 2020 with the first programming and, during the whole summer period, various films will be offered already broadcast this winter. Unfortunately, as we all know, winter programming has been interrupted due to the Coronavirus emergency.
To be able to watch movies under the stars it is not necessary to book and tickets seats will be sold until exhaustion at an affordable price of 5 euros.
The use of the mask is mandatory only at the entrance in case of crowds, once seated it is no longer mandatory.
Outdoor cinema program
Constantly updated.
26 June
Room 1 - Dinner with crime
Room 2 - Fairy tales
27 June
Room 1 - Joker
Room 2 - 18 gifts
28 June
Room 1 - Pinocchio
Room 2 - Parasite
1 July
Room 1 - The Miserables
Room 2 - 1917
2 July
Room 1 - Trolls World Tour
Room 2 - Sorry we missed you
3 July
Room 1 - 7 hours to make you fall in love
Room 2 - The Goddess Fortuna
4 July
Room 1 - The most beautiful day in the world
Room 2 - Hammamet
5 July
Room 1 - Little women
Room 2 - The farewell-A good lie
8 July
Room 1 - A rainy day in New York
Room 2 - Bombshell-The voice of the scandal
9 July
Room 1 - A son named Erasmus
Room 2 - JoJo Rabbit
10 July
Room 1 - The Immortal
Room 2 - not available
11 July
Room 1 - I hate summer
Room 2 - Richard Jewell
12 July
Room 1 - Downton Abbey
Room 2 - Children
15 July
Room 1 - Tolo Tolo
Room 2 - Memoirs of a murderer
16 July
Room 1 - The most beautiful years
Room 2 - Bangia
17 July
Room 1 - The Immortal
Room 2 - not available
18 July
Room 1 - The first Christmas
Room 2 - The good time
July
Room 1 - Good girls
Room 2 - Fabrizio De Andrè and PFM
22 July
Room 1 - Once upon a time in Hollywood
Room 2 - After the wedding
23 July
Room 1 - The goldfinch thief
Room 2 - All my crazy love
24 July
Room 1 - not available
Room 2 - not available
25 July
Room 1 - The officer and the spy
Room 2 - Parasite
26 July
Room 1 - The mayor of the Rione Sanità
Room 2 - Bad waters
29 July
Room 1 - Birds of prey
Room 2 - Fairy tales
30 July
Room 1 - Addams Family
Room 2 - La belle epoque
31 July
Room 1 - 5 is the perfect number
Room 2 - Georgetown
Information on outdoor cinema
When: from June 26, every day except Monday and Tuesday
Where: ex born base in Bagnoli, Via della Liberazione 115 - 80125 Naples
Timetable: 21.30
Price: € 5