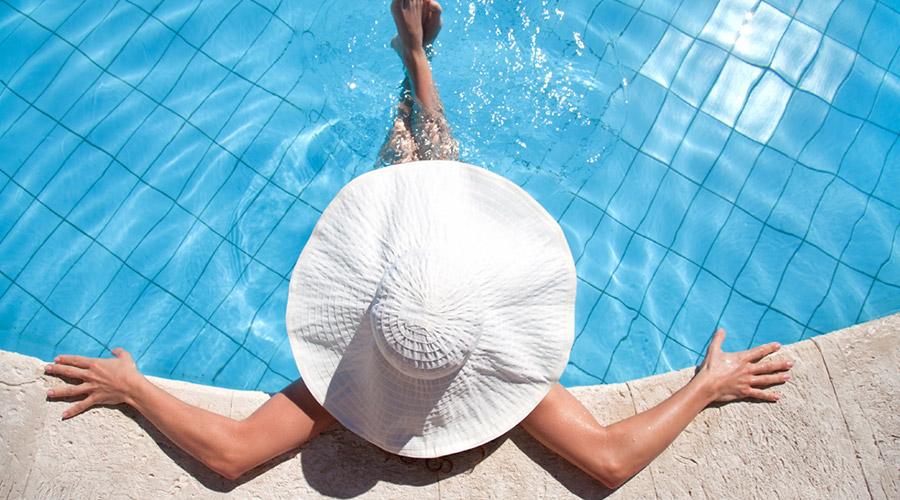 A guide with information and prices on the swimming pools of Naples and its province where you can take a dip of relaxation and fun!
The heat in Naples has finally arrived! And with the arrival of high temperatures the only solution is to go to the sea. Yes but where?
Although Naples overlooks a beautiful promenade and the beaches are not lacking in the city nor in the Phlegrean coast (Here a selection of the best beaches in Naples and its province), some prefer the pool to the sea and sand.
This is why, especially in recent years, the opening of bathing facilities in the city, equipped with swimming pools, solarium, showers, areas dedicated to children, saunas, spas ...
In short, everything you need to accommodate the Neapolitans, but also tourists, and in general those who do not have the opportunity to move from where they live or simply love the tranquility of the pool compared to the sea.
Obviously there is something for everyone, from the structures created to offer the most complete relaxation to those who entertain the young with DJ sets and aperitifs from morning until late at night, you are spoiled for choice!
Below is a list of pools located in Naples and its province divided by area, with useful information and price details.
Vomero
Jemming Idro Panoramic Exclusive Club

The club Jemming it is a real oasis of relaxation immersed in the green of the Aminei Hills, from which you can enjoy a wonderful view of the Gulf of Naples. The structure is of recent construction and offers customers swimming pools, halls for ceremonies, a restaurant, a lounge bar and a playground.
The "balneal" area contains a solarium and 2 swimming pools (one in the adults area and one in the children area), with a garden equipped with deck chairs and umbrellas in which to relax and take a tan.
The structure also has a restaurant / pizzeria area and a grill where you can have lunch.
Jemming also organizes aperitifs starting from 19.
Rates:
Full day (9-18) from Monday to Friday: whole 13 euro | children 10 euro
Saturday, Sunday and holidays: 18 euro
Afternoon (13: 30 - 18) from Monday to Friday: 10 euro
Information: 081 770 1281 | Facebook page | Website
Address: Via del Serbatoio, 10, Naples (Google Maps)
Neapolis Sporting Club

The beautiful complex located in the ancient rural village of Due Porte all'Arenella includes: outdoor pools, heated mini-pools with Jacuzzi, turkish bath, playground and even an educational farm. Sara open every day from 8: 30 to 18: 30, with the possibility of purchasing the beds directly online on the official website. This year, in compliance with the anti-Covid rules, for the purchase of the ticket it is also necessary to give your personal details and self-certify whether the people with whom you enter are or are not subject to compliance with the social distancing measure.
Rates:
Info and reservations: info@neapolissportingclub.it; 081 7702898; 334 7813150
Address: vico Molo alle due Porte, 18, Naples
Fuorigrotta
The Olympic Pool of the Overseas Exhibition reopened in July 2020. Covid cause is necessary book the entrance through the appropriate app. The swimming pool is open from the 9.30 18.30 and the last entry is at 18.00.
Rates:
Saturday, Sunday and holidays: € 16,00 including cot;
Monday to Friday: € 12,00 including cot;
under 14 and over 65 years: weekday € 8,00 - holidays € 12,00;
FIN members (reserved max. 2 lanes): from Monday to Friday € 8,00
Reservations required: through app | at the number 0817258075 | to the email piscina@mostradoltremare.it
Address: via Marconi, viale Kennedy 54
Posillipo
Bay of the Green Rocks

This enchanting location is located inside the Villa Fattorusso complex, set in the splendid hill of Posillipo, between Villa Rosebery and the Scoglione di Marechiaro. There reservation is mandatory.
The Villa hosts events and receptions, but also allows bathing to the public at the Bay of the Green Rocks which includes a tufaceous structure with sunbeds by the sea, a panoramic terrace with two pools of sea water, one for adults, one for children, a panoramic garden area next to the pools to sunbathe and relax, and a pergola terrace that houses the bar-buffet-dining area. There is also a bar service at the sunbeds, hot showers and strippers.
The bathing season will continue until September 2020, open every day from 9: 00 to 18: 00.
Mandatory use of the headset.
Rates:
Entry weekdays: 15 euro | children 7 euro (from 3 to 11 years)
Entrance to public holidays: 18 euro | children 9 euro (from 3 to 11 years)
Toddler bed or deckchair: 5 euro weekdays - 7 euro bank holidays
Pillow: weekdays 5 euros - public holidays 7 euros
Parasol: weekdays and holidays 5 euro
Afternoon admission - Monday to Friday from 14.00 to 18.00
Entrance + cot € 12
Entrance for children (from 3 to 11 years) 4 euros
Full price list on the official website of the Bay of the Green Rocks.
Info and reservations: info@villafattorusso.com; 081 / 5756716
Address: Via Posillipo 68, Naples
Frullone
Acquachiara swimming pool

The Acquachiara company will organize the summer season in its structure Frullone, located in via Marco Rocco di Torrepadula.
There are in this Frullone structure an outdoor pool, a solarium, pool bar, gym, dining area and parking. For a summer of swimming, sun, relaxation, aperitifs, music and events.
Rates:
Acquachiara members:
Friday, Saturday and Sunday:
single entry: 12 euros | under 12: 8 euros
children up to 3 years: free
10-entry card: 100 euros
10-entry card (under 12): 70 euros
Opening hours: from 10.00 to 18.00
Information: 0817406060 | info@acquachiarasport.com | Official website
Address: Via Marco Rocco di Torrepadula, 101 - Naples
Giugliano
Karibù Club

Il Karibù club it is located at Giugliano in Campania, and is a recreational complex equipped with pool for adults, of various depths, and swimming pool for children, with water slide and waterfall, completely surrounded by greenery, among tropical plants. On a lawn there is a sunbathing area and a play area for children, with swings, springs and slides.
Among the various services offered an African style gazebo bar / restaurant, a DJ console, disco, pool table and table football.
Rates:
from Monday to Friday: 12 euro adults, 7 euro children 4-10 years
Full day Saturday: € 14 adults, € 8 children 4-10 years
Saturday afternoon: 10 euros for adults, 5 euros for children 4-10 years
Sunday and holidays full day: € 14 adults, € 8 children
Sunday afternoon: 10 euros for adults, 7 euros for children
Up to 4 years old; free entry
Afternoon ticket (from 14 pm except holidays): adults 00 euros, children 8 euros
Free umbrellas until exhaustion
The price for adults includes entrance and cot
info: 338 4345459; 335 5874258 | Facebook page | Website
Address: Via San Francesco in Patria, 208, Giugliano in Campania
Fusaro
Nabilah

The beautiful beach club Nabilah which stands on the Roman beaches behind Lake Fusaro, is one of the meeting places of the Neapolitan nightlife of the summer season, with its disco on the beach and its refined outdoor lounge restaurant. During the day, however, it is a very elegant one seaside structure dedicated to all those who want to relax by the pool lying comfortably on a bed, served by the staff of Nabilah.
Two twin pools, music, sea and beach of fine sand furnish the location, where you can spend the best summer days until the aperitif at sunset, and the prices are not even high!
Rates:
Every day from 10.00 to 18.30:
Monday to Friday: swimming pool 20 euros, beach 15 euros
Saturday and Sunday: swimming pool 22 euros, beach 17 euros
For information see the official website of Nabilah or official page on Facebook
Info and contacts: 081 868 9433
Address: Via Romana Beach, 15, Bacoli (NA)
Kanathé

The tourist complex Kanathé It is located on the same road as Nabilah, also located on the fine golden sand of the Roman beach, on the Phlegrean coast, equipped with sunbeds, umbrellas and fenced beach volley and soccer fields.
The property offers moments of relaxation and fun during the day, to be spent in pool, close to the sea, and in the solarium equipped with all comforts, with umbrellas, deckchairs, showers, bar service and restaurant. There is also a family area with a play area for children supervised by specialized personnel.
Open every day from 8: 30 to 18: 30.
Rates:
June, July and August:

Monday to Friday: beach 5 euros | solarium 7 euros | umbrella 5 euros
Saturday and Sunday: beach 6 euros | solarium 10 euros | umbrella 5 euros

September:

Monday to Friday: beach 4 euros | solarium 6 euros | umbrella 4 euros
Saturday and Sunday: beach 5 euros | solarium 8 euros | umbrella 4 euros
offer: for the whole month the entrance to the children is offered by the structure
On the beach, children under 100 cm enter for free, from 100 cm50 up they pay XNUMX%
In the pool, children up to 140 cm pay 5 euros.
Prices include sun lounger or deck chair.
Info and contacts: 081 8543589 | Facebook page
Address: Via Romana Beach, 31 / 33, Bacoli (NA)