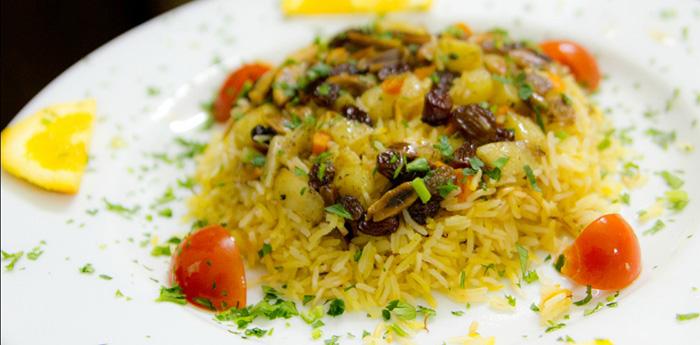 Arab restaurant in Naples? Amir will be able to surprise you.
We leave the typical Neapolitan cuisine momentarily and lead you to the discovery of another type of cuisine: that
Arabic
. We will let you know the restaurant "
Amir
", Which has won us over with his
definite flavors
and with the
courtesy
of the staff.
The local
The restaurant on Via Santa Chiara is little one but full of charm. Everything is decorated in Arabic style and even the background music follows this fil rouge.
The staff will welcome you at the door and will make you feel at house explaining, if necessary, also the composition of the dishes or advising the pairings with the wines. Small flaw is the absence of Arab wines, although the choice of Italian wines is quite varied.
The menu
Amir's kitchen is a kitchen ! and above all of good quality, which also presents traditional dishes Palestinian, the owner's native land of the restaurant. Vegetarian and vegan alternatives are obviously possible, but we have no information about the possibility of dishes for people celiache. Another strong point of the restaurant is the extreme care in the layout that makes the dishes not only good, but also pleasing to the eye.
The order
We started dinner with a Mixed appetizer (10 euro) that allowed us to try all kinds of "meatballs". There were the famous falafel (meatballs with chickpeas), but also kubbet ruz (meatballs with potatoes and meat) and kubbet halab (meatballs with rice and meat), all accompanied by hummus (chickpea sauce) and Arabic bread. The dish, as you can see in the picture, is really great.
We continued with the cous cous, typical and well-known dish prepared with durum wheat semolina combined with stewed vegetables. From Amir you can choose, if you want, even the vegetarian dish or with meat (mutton or chicken).
Cost of the evening? 15 € per person.
Conclusions
Amir's Arab cuisine really delighted us and we left the place really full. The staff is extremely courteous and ready to give any required explanation. The dishes are plentiful and the amount of spices is expertly used so that everyone can approach and appreciate this wonderful cuisine.
Useful Information
Where is it: Via Santa Chiara, 25 - Naples
For reservations: Tel 081 552 73 80
[Votes: 0 Media Rating: 0 / 5]