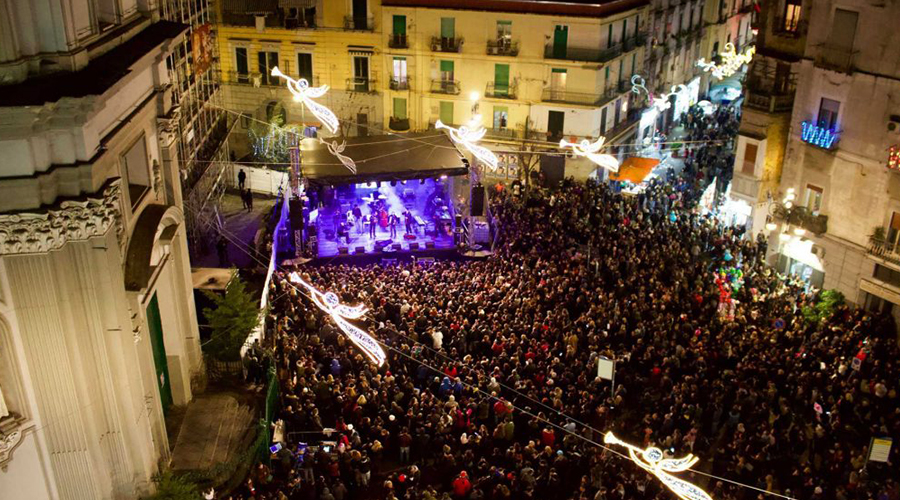 The Sanità Tà Tà event is celebrated at the Rione Sanità in Naples, a white night of fun and music.
Al Rione Sanità of Naples the8 December it's time to celebrate with the event Health Tà Tà 2019, well 6 stages located at various points in the Neighborhood who will be ready to host lots of artists.
The following are reported some of the names of the musicians who will perform on the various stages, while for the complete program you can consult the online event page.
The program
Main Stage of Piazza Sanità
They present: Gigio Rosa, Gianni Simioli, Gianluca Manzieri, Diego Laurenti, Marta Martinez Voice, Timo Suarez, Francesco Mastandrea.
On stage: Natale Galletta, Francesco da Vinci, Peppe Soks, TheRivati, Giovanni Block, Ida Rendano etc.
Virgins Stage in Crossing Via Vergini - Via dei Cristallini
Presents: Antonio Tonelli
On stage: Paduano, Manco, Daphne, Tonia Cestari, Ivo Mancino, Il Belfolko etc.
Misericordiella Stage
On stage: Enzo Cuomo, Biagio Foglia, Maximilian Heart, Antonio Del Prete etc.
Stage Via Fuori Porta in San Gennaro
Presents: Pulps
On stage: Dj Corrado Capasso, CapaTosta, Ritmi del Sud, Boro, etc.
Gradoni Stage Palazzo San Felice
Presents: Massimo Penza
On stage: Dj Eugenio Capasso, Gennaro De Crescenzo, Biagio Foglia, Chiodo Fisso, etc.
Crociferi stage
Presents: Michele Montefusco
On stage: Giovanni learned, Albino D'Amato Albodub, Milena Setola, Giordano Esposito, etc.
The party
The neighborhood of the Health it will open to a moment of celebration, surrounding itself with the music of the various artists who will attend the event.
It will therefore be an opportunity for meet, have fun and enjoy the spaces of your city, which for the occasion will be invaded by a large audience.
Information on Health Tà Tà 2019
Where: Rione Sanità, Naples
When: 8 December 2019
Schedule: From 19: 00
Price: Free admission