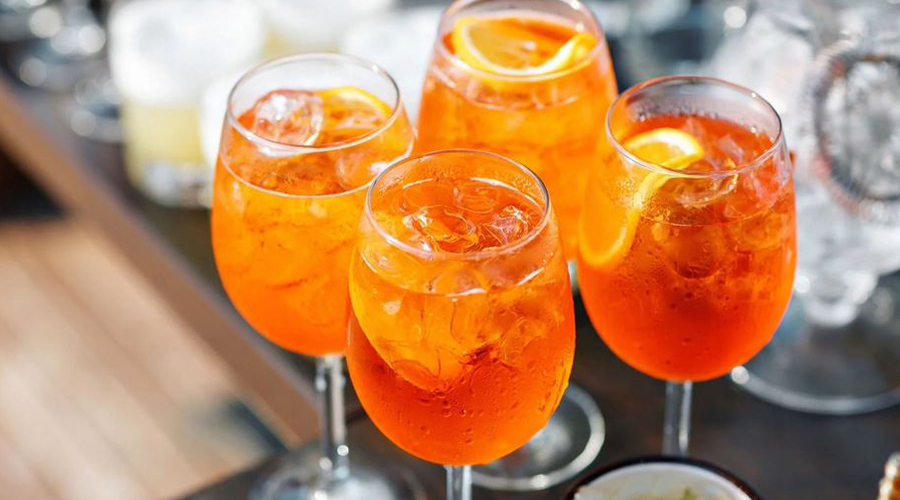 Spritzerò, the Aperol-based venue with drinks, opens a new location in the Colli Aminei in Naples. Spritz free at the opening!
The new headquarters of Spritzerò in Naples inaugurates the Colli Aminei the 19 September 2019, making 5 increase the number of the brand's premises in the city. In addition, there will be the opening night free spritz for everyone.
After the opening of the headquarters of Fuorigrotta, the Aperol Spritz monobrand will carry his cocktail bar also in this new area of ​​Naples, surely repeating the success it had in other neighborhoods.
The novelty of this Spritzerò is in the drink dedicated to San Gennaro, the patron saint of Naples, a drink intense red color, which obviously refers to the famous miracle of the dissolution of the blood of the saint, and which will be available throughout the year.
No coincidence that the restaurant opens on the day of San Gennaro and, inside it, you can order all Aperol, Vermouth, Campari and Prosecco Cinzano based drinks, prepared by the talented bartender Giuseppe d'Antonio.
Recall that in these cocktail bars peanuts are always free and that, at the inauguration, there will be hostess, apecar and gadgets, all strictly in orange.
Information on Spritzerò at the Colli Aminei
When: inauguration Thursday 19 September 2019
Where: Viale Privato Farnese, 1 - Colli Aminei
Timetables:
19.00 installation. Until the 20.00, free spritz
Opening hours: Monday to Sunday from 18: 00 to 2: 00
[Votes: 4 Media Rating: 4.8 / 5]