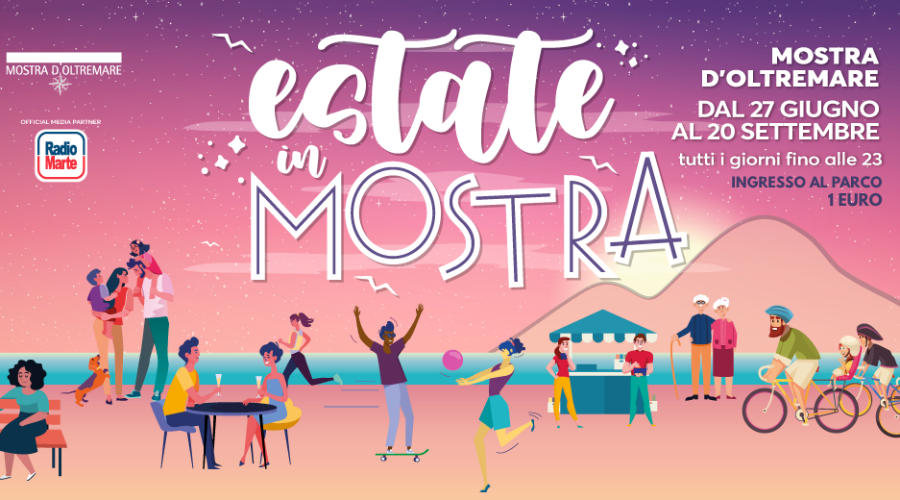 At the Mostra D'oltremare in Naples the Summer in Mostra event: scheduled visits until the evening with markets and the extraordinary light show of the Esedra Fountain!
From 27 June to 20 September 2020 to Mostra D'Oltremare in Naples the event will take place Summer on show, accessible every day until 23pm.
Summer on show at the Mostra D'Oltremare
There will be many scheduled events to which you can participate by purchasing a ticket 1 €. You can visit, every weekend from Friday to Sunday, the market dedicated to small antiques, collectibles, crafts and modern antiques.
Always every Friday, Saturday and Sunday at 22:00 you can instead attend the suggestive light show of the Esedra Fountain. During the week you can book bike tours to discover the exhibition by bicycle or you can still train in collaboration with Free Fitness Napoli.
Inside the Mostra D'Oltremare you will also find an extension gastronomic offer with seven food take away points.
Information on Estate in Mostra
When: from 27 June to 20 September 2020
Where: Mostra D'Oltremare, Viale John Fitzgerald Kennedy
Timetable: from 10: 00 to 23: 00
Price: admission 1 euro