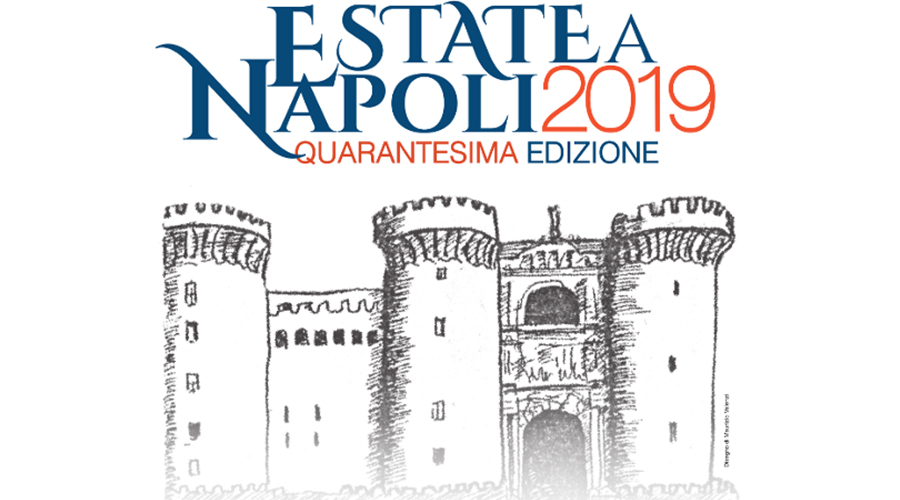 Lots of events, concerts, exhibitions, open-air cinema, theater, guided tours with the 2019 Naples Summer program throughout the city!
Also this year the Municipality of Naples he thought of a rich program of events and initiatives for the summer 2019 in the city to ensure that both citizens and tourists can have fun by participating in hundreds of events of all kinds.
The review Summer in Naples, which will last until October, this year comes to his fortieth edition and also wants to remember the first year in which a mayor, who in the 1979 it was Maurizio Valenzi introduced this beautiful novelty full of private events, concerts, exhibitions, guided tours, theater show, outdoor cinema, meetings and fairy tales for children. It was the beginning of a real cultural revolution that continues today. To honor this idea, the exhibition is organized at the Maschio Angioino Summer in Naples 1979-2019. The politics of entertainment at the time of Maurizio Valenzi.
However, the program still includes many events in many places in Naples, including the Convent of San Domenico Maggiore, the Foqus space at Spanish Neighborhoods, Botanical Garden, the Basilica of Pietrasanta, the Park of the Poggio and many others.
Summer Program in Naples 2019
Maschio Angioino
Thursday 4 July 21.00 hours
A journey of songs - from Vesuvius to the Cupolone Music show with Luciano Salvetti, Umberto Del Prete and Marianna Montella. Orchestra conducted by Maestro Ginetto Ferrara
Admission € 12.00 By association Prospet Info: prospet@pec.it
Friday 5 July 18.30 hours
Concert by the Symphony Orchestra of the Spanish Quarters of Naples on the occasion of the 208 anniversary of the Independence of Venezuela
Entry by invitation
Sunday 7 July hours 18.30 (guided tour), 21.30 (concert and tasting)
That's Napoli Live Show 2019 Concert by the Naples City Choir - Choir of the City of Naples directed by Maestro Carlo Morelli, guided tour and aperitif Organized by the Associazione Al alta voce Entrance: 25 euros including guided tour and tasting Info and reservations: 3341119819
Monday 8 July 20.00 hours
Final show of the 5th edition of Isolympia - Olympic Games Partenopei Speciale Universiadi
Free admission Info: info@amartea.org
Friday 12 July 21.00 hours
Ethnos XXIV Festival Preview The Liberation Project
Admission: 12 euro + presale Info: 0818823978 / info@labazzarra.com
Tuesday 23 July 21.00 hours
Femin'arte Pino Daniele Opera
Cost: € 15,00 Info: 0815448891 /assculprocultur@gmail.com
Tuesday 24 September hours 20.30
When the bombs fell in Naples
Entrance: 7 euro Info: noos5162010 @ gmail
Monumental Complex of San Severo al Pendino
from Friday 20 to Sunday 29 September hours 20.00
Via Duomo, 286
La Tarantina In this piéce-testimony Carmelo Cosma "La Tarantina", the last feminine of the Spanish Quarters, tells its story, its life and how this, at times, may have been hard Entertainment t
Admission: € 10.00 info: tel. 0815454574 - 081425276 - info@metastudio89.it - ​​www.metastudio89.it
Real Casa Santa dell'Annunziata
from Friday 20 to Sunday 22 September hours 20.00 Real Casa Santa dell'Annunziata In flesh and bones Theatrical performance on traditions related to pregnancy and newborns related to the history of Matres Matute and Mulieres Salernitanae. Evocation of the "handkerchief ritual" Free entry for fifty spectators at a time By f.pl. feminine plural info: tel. 3284138729
EXHIBITIONS
Piazza Municipio
from 12 July Liu Ruowang: Wolves Coming (Wolves on the way) to Naples
Maschio Angioino
Cappella Palatina from lugio in October 2019 The School of Posillipo: the light of Naples that conquered the world
Convent of San Domenico Maggiore
from 16 in May to 28 in July 2019 Transvantgarbage. Lands of Fire and of Nobody - Photographic exhibition of Marisa Laurito
PAN - Palazzo delle Arti Naples
Monday to Saturday from 9.30 to 19.30 Sundays and holidays from 9.30 to 14.00 - closed Tuesday
from 29 in May to 13 in July 2019 Elio Washimps
from 20 July to 2 August 2019 Art Performing Festival
Filangieri Museum
from 1 February to September A century of fury - The caravaggisti of Filangieri
Museum of Capodimonte
from 12 April to 14 July 2019 Caravaggio Naples
Basilica of Pietrasanta - Lapis Museum, Piazzetta Pietrasanta 17-18
Theater show
States of Grace and Emergency - Festival of Theater Suburbs
Community - Territories II Edition 16 July / 5 September 2019 - Thoughts about the world change, if the Place where we build them is to change
Cemetery of the Fontanelle
Tuesday 16 July hours 20.30 The brides. Production New theater Sanità
Convent of San Domenico Maggiore
Saturday 13 July hours 21.00 Tarantella under the stars at the Cloister of San Domenico Maggiore
Monday 15, Tuesday 16 and Wednesday 17 July hours 21.00 Cloister - Festival of Philosophy in Magna Greci
Friday 26 July hours 21.00 - Chiostro - Femmene 'e Napoli
Friday 9 August hours 21.30 Cloister - Contemporary Classic Review - 6a Romeo and Juliet edition
from Thursday 5 to Sunday 8 September hours 21.00 Cloister - Review ONLY By Jesce Sole srl Entrance: € info: tel./fax 0815520906 - jescesole02@gmail.com
Cinema and Festival
Park of the Poggio
from July to August 2019 -Viale del Poggio di Capodimonte Cinema at the Poggio del Arena
FOQUS Naples, Spanish Neighborhoods Foundation
via Portacarrese in Montecalvario, 69 - Spanish Film Festival. Previews and unreleased films of the best Spanish cinema, in the original language, of the last season
from 16 to 20 July 2019
Botanical Garden
Via Foria 223 Chills of Summer - XIX Edition
From 29 June to 5 August and from 1 to 30 September 2019
Tales
Monday 22 July, 19 hours Teatrop (Lamezia Terme) Pinocchio parade
Tuesday 23 July, 20,30 hours Teatrop (Lamezia Terme) Pinocchio Testadura
Wednesday 24 July, 20,30 hours Teatro delle Albe - Ravenna Theater Ker Thé

â

three Mandiaye Ndiaye (Senegal) Thioro, a Senegalese red riding hood
Information on the Summer in Naples
When: June to October 2019
Where: various places in Naples
Prices: some events are paid, others are free. Consult the program