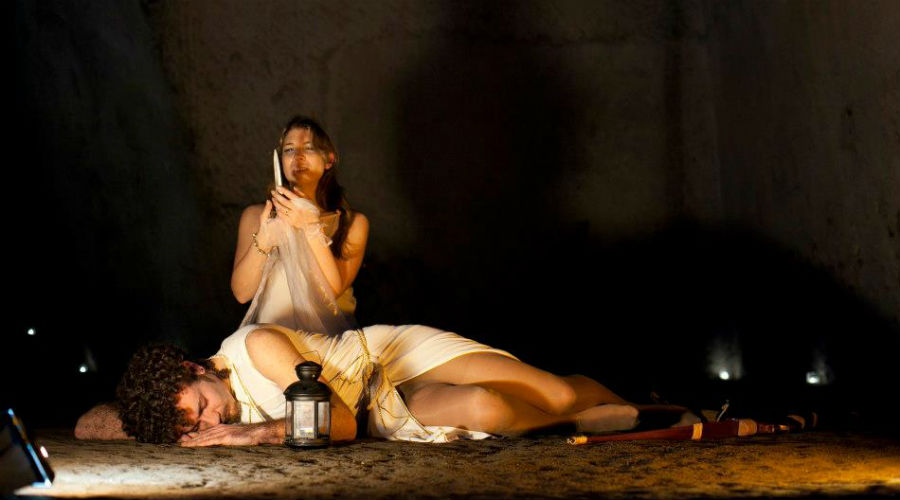 The Fable of Cupid and Psyche is staged at the Museo del Sottosuolo in Naples to celebrate the feast of lovers 2020!
Friday February 14, on the occasion of Valentine 2020, will be staged in the Museum of the Underground of Naples, a truly suggestive show on one of the most beautiful and most romantic love stories of all time.
The show whose title is Chimera: The tale of Cupid and Psyche in the eyes of Dino Campana, will stage the beautiful story narrated by Apuleio, of the overwhelming and passionate love of Love and Psyche together with the verses of Dino Campana.
The show was born from an idea of Livia Bertè to celebrate the great artist Carmelo Bene in the tenth anniversary of his death, for this reason verses are freely inserted from the Canti Orfici, the workhorse of the actor, within the story.
Love and Psyche at the Museum of the Underground
The story of Apuleio will be faithfully retraced: Psyche, mortal girl with the same beauty as Venus, falls in love with Cupid, without however knowing his true identity, in fact the two lovers reunite only in the darkness of the night.
Instigated by the envious sisters, she discovers Cupid's identity and is therefore forced, before being able to rejoin her divine wife, to carry out a series of tests, at the end of which he will obtain immortality.
To make everything more suggestive there will be the images that will take you on a journey through an exciting one world past and lost. The reservation is mandatory.
Information on Love and Psyche at the Museum of the Underground
When: 14 February 2020
Where: Underground Museum Piazza Cavour, 140, 80137 Naples
Hours: 19:30 and 21:30, it is recommended to arrive 15 minutes earlier
Price: 16 euro ticket
Contacts: for reservations: call 371 4285438 - 328 0115044 | whatsapp 340 4657949 | lachiavediartemysia@gmail.com