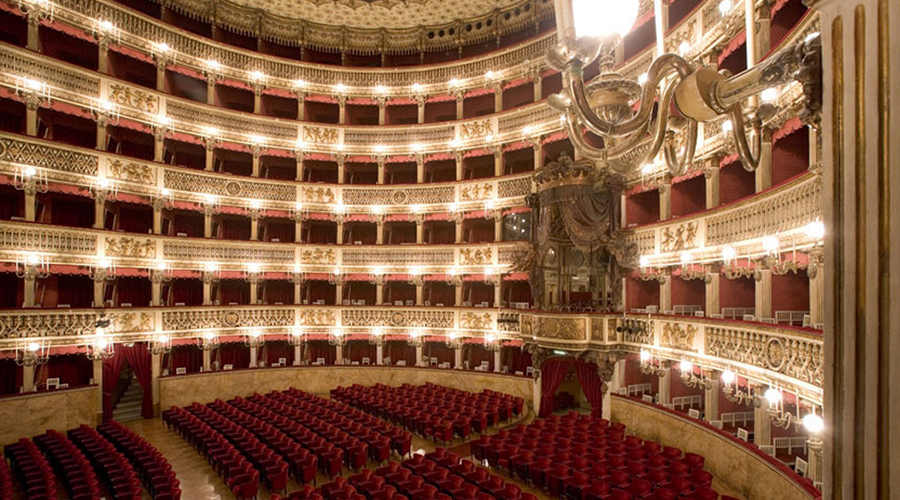 La Tosca returns to the Teatro San Carlo in Naples in a new production with the Chorus of the White Voices.
The Teatro San Carlo will dedicate an entire week to the new production of La Tosca di Giovanni Puccini between 22 and the 29 January 2020. They will take part in the show the Orchestra, the Chorus and the Chorus of the White Voices of the Teatro San Carlo in Naples.
The direction is by Edoardo De Angelis, one of the most interesting Italian directors currently and who, for the first time, climbs onto a lyrical stage. The work is directed by master Donato Renzetti, while the costumes are of another prestigious name, Mimmo Paladino.
A love story in Napoleon's time
La Tosca is set in Rome in the years just after French Revolution: Napoleon had just been kicked out of Rome by the intervention of Ferdinand IV of Bourbon, who reduced the dream of a Roman republic to ashes.
Against the background of these historical events Puccini told one story of love, betrayal and blood in very strong colors, which staged the lowest instincts and the highest passions of the human being.
A work that is always current
The new production of the San Carlo intends to once again renew the undeniable topicality and the profoundly true fascination of Puccini's work. The setting of the most beautiful Theater of the World will not be able to do justice to the artists who have been entrusted with the task of giving life and voice to the main characters of the drama: Carmen Giannattasio (Fosca), Fabio Sartori (Mario Caravadossi), Enkhbat Amartuvshin (Barone Scarpia).
The opera, sung in Italian, will have English and Italian surtitles.
Programming of the staging
The 23, 25 and 29 January days are dedicated to viewers not a subscription holder. During the staging of these evenings the actors will go on stage Monica Zannettin (Tosca) Arsen Soghomonyan (Mario Caravadossi) e George Gagnidze (Barone Scarpia)
Wednesday 22 January 2020, hours 20.00 - Round A
Thursday 23 January 2020, 20.00 hours - Out of season ticket
Friday 24 January 2020, hours 18.00 - Round B
Saturday 25 January 2020, 19.00 hours - Out of season ticket
Sunday 26 January 2020, 17.00 hours - Round F
Tuesday 28 January 2020, hours 20.00 - Round C / D
Wednesday 29 January 2020, 18.00 hours - Out of season ticket
Information on Tosca at the San Carlo
Where: San Carlo Theater, Via San Carlo 98 / F, Naples
When: from 22 to 29 January 2020
Prices: from 20 Euro (listen only) to 150 Euro (Poltronissima Oro)
Schedules: consult program