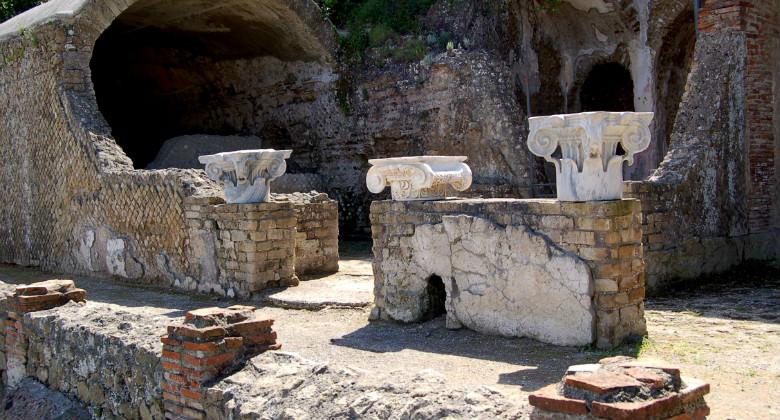 The term
The ancient Baiae, famous for the thermal nature of its territory, in Roman times it was one of the favorite holiday destinations of the aristocracy.
The Archaeological Park of Baia, which extends well 40.000 m2, has well preserved traces of structures to thermal destination, among which: the baths, improperly called temples, of Mercury, of Venus, of Dianaand Sosandra, to which we add a theater-nymphaeum, and the so-called Villa dell'Ambulatio. The latter stands on two terraces of which the superior was designed to house the domestic environment, while the lower one was constituted by an immense portico, which gives the name to the villa.
Information on the Archaeological Park of the Terme di Baia
Opening time:
From the 09: 00 up to an hour before sunset
closed Monday, 1 January, 1 May and 25 December

Ticket office closes one hour before
Price tickets:
Integrated ticket with the Archaeological Museum of the Phlegraean Fields, the Flavian Amphitheater, the Serapeum in Pozzuoli and the Cuma excavations.
Full € 4
Reduced € 2: young people between 18 and 24 years, teachers of state schools
Free under 18, the first Sunday of each month. For all other numerous cases, consult the official website.
Contacts and reservations:
How to get:
Address: Via Sella di Baia, 22 - Bacoli (Naples)
L2 metro line: Pozzuoli station, proceed by car or taxi (about 15 minutes) SEPSA: Lucrino station, proceed by car or taxi (about 4 minutes).
The Archaeological Park of the Terme di Baia (Naples)
The Archaeological Park of Baia, which extends well 40.000 m2, has well preserved traces of thermal baths
Address:
Via Sella di Baia, 22
City:
bacoli
Region:
Campania
Country:
Italy
Phone:
0639967050
Operating hours: times not available or variable