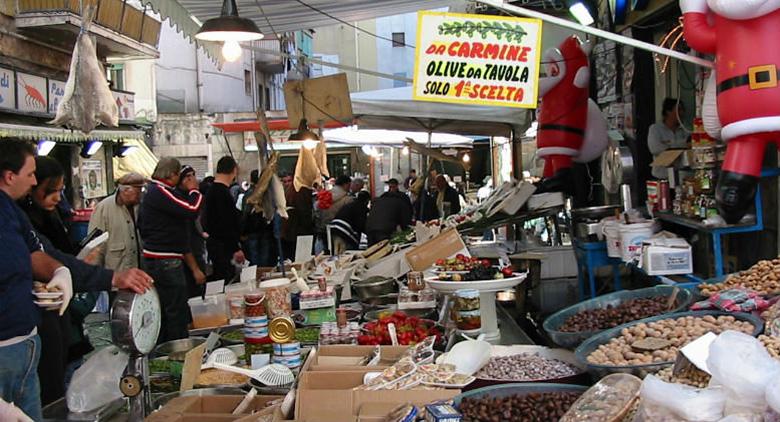 La Pignasecca
The picturesque Pignasecca market is located in the area of ​​the Spanish Quarters of Naples, behind the equally bustling and central Via Toledo.
La Pignasecca as well the oldest market in Naples, allows the visitor to admire a very suggestive and folklore cross-section of the city of Naples where exhibits of fish, fruit, vegetables, fries and sweets to be consumed in the street are flanked by stalls of all kinds, with clothing, accessories and music CDs , with very affordable prices.
You can also take advantage to visit the churches of Santa Maria di Montesanto and San Nicola alla Carità.
The origin of the name
The curious term that identifies this place dates back to the 1500.
Then the gardens that characterized it were flattened for the construction of via Toledo and only one survived Pine, defined in Neapolitan pigna. Of the gaza they nested there, hiding all the precious objects that they took from neighboring houses, until the demoralized inhabitants prevented them from expelling them. The pine gradually dried up giving this area the name "Pignasecca".
Information on Pignasecca
Market opening hours

How to get:
Address: Via Pignasecca - 80134 Naples
L1 metro line, Toledo station, proceed on Via Toledo, turn left immediately after Piazza della Carità, about 5 minutes on foot | Metro line L2 or funicular, Montesanto station, cross Piazza Montesanto and continue on Via Pignasecca, about 3 minutes on foot | Bus 201, 460, E1, N3, N8 or R4, stop Toled0 Charity - Orthopedic Studio, turn right first |
La Pignasecca in Naples
The picturesque market of Pignasecca is located in the area of ​​the Quartieri Spagnoli of Naples, behind the equally bustling and central Via Toledo.
Address:
Via Pignasecca
City:
Naples
Region:
Campania
Country:
Italy
Coordinates:
40.8453351,14.2483452
Operating hours: times not available or variable
Admission for visitors is free.