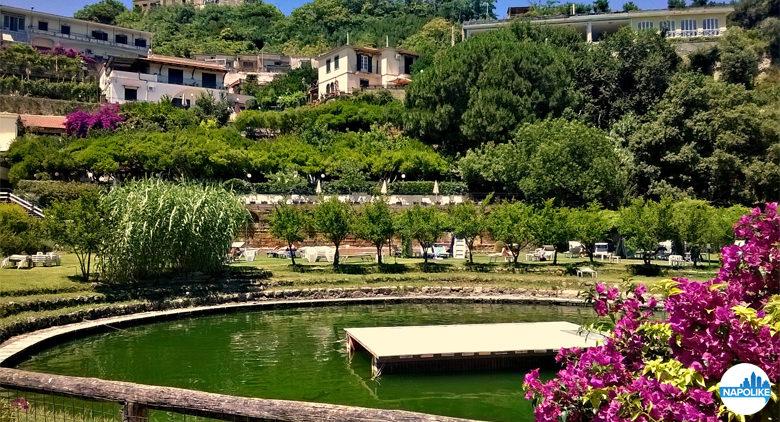 The Stufe di Nerone Thermal Baths, immersed in the Phlegraean Fields
the Baths
The Stufe di Nerone, ancient Roman thermal baths, are immersed in the evocative landscape of the Campi Flegrei. A corner of paradise already active in the II century AD and addressed to welfare of body and mind thanks to the therapeutic properties of hot Springs that characterize the Phlegrean territory.
Structure
The structure is equipped with 4 pools, two of which external and one internal with thermal water and an outdoor for children, natural saunas, lawns on which you can settle with sunbeds, with gazebos and shaded areas, a path of hot and cold water, a pond with sludge, a wellness center (massages, aesthetics, medical examinations), internal rest areas, a restaurant / bar, conference rooms, changing rooms and services.
Info
the cap is mandatory (you can also buy it on site, € 2)
you can buy or rent the bathrobe (€ 5) or the towel (€ 3)
it is not possible to introduce food and drinks from the outside
Saturday and Sunday, during July and August, miniclubs for children are active.
Information on Nero Stoves
Opening time
From September to May: Mon.-Wed.-Sat. from 08: 00 to 20: 00; March-Thurs-fri. from 08: 00 to 23: 00; Sundays and holidays from 08: 00 to 18: 00
June, July and August every day from 08: 00 at 20: 00
Closing days: 1 January, Easter Sunday, 25 and 26 December
price tickets
Daily single ticket: 30 €
Subscription from 6 admissions: 120 €
Subscription from 10 admissions: 190 €
Subscription from 20 admissions: 350 €
Wellness package (single entry + massage or treatment): starting from 55 euro
Address
Via Stufe di Nerone 37, 80070, Bacoli.
How to get
In Cumana
Get off at Lucrino station and continue on foot for about 300 meters towards Bacoli.
By car
Take the Tangenziale di Napoli, exit n.14, Pozzuoli-Arco Felice, take the tunnel on the right towards Bacoli. Continue for about 700 meters from the tunnel exit to the roundabout. Take the road that leads to Lake Averno. After 100 meters, turn left and follow the road until you see the parking of the thermal baths.
Contacts
Tel: (+081) 868 8006 XNUMX
E-mail: info @ tsdn .it
Official website of the Stufe di Nerone
Tripadvisor page on Nero's Stoves
Stufe di Nerone
The Stufe di Nerone, ancient Roman Baths, are immersed in the suggestive landscape of the Campi Flegrei. A corner of paradise already active in the II century A.D
Address:
Via Stufe di Nerone, 37
City:
Naples
Region:
Campania
Country:
Italy
Phone:
081 868 8006
E-mail:
info@tsdn.it
Hours for visitors (updated to 23 June 2018):