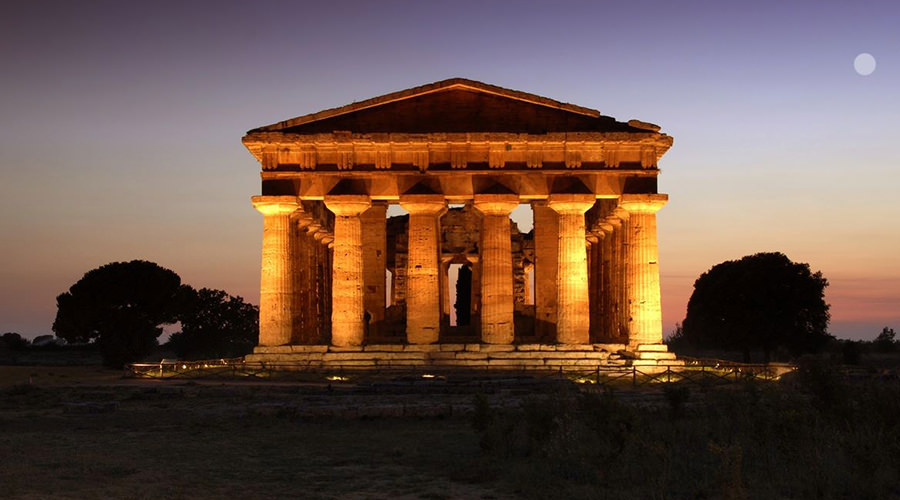 New appointment in the suggestive Temples of Paestum with Yoga Lessons: two weekly appointments dedicated to inner well-being!
Starting from June 30 2020 and to follow every Tuesday and Thursday from 18:00 to 19:00 will be held Yoga lessons in the Temples of the Archaeological Park of Paestum.
Yoga lessons in the Temples of Paestum
The event now in its third edition is organized by the Madhava association with the Archaeological Park of Paestum and Velia. In particular, the first lesson to be held on June 30th will take place at the Park of the Little ones in the archaeological area of ​​Paestum.
Lessons will be held by teachers Luciano Bufano and Stefania Zerella, two professionals with twenty years of experience who will accompany you on this truly evocative journey.
To participate in the event you will need to make a reservation by contacting the teachers directly and as regards access to the archaeological area will be allowed by purchasing the daily entrance ticket or the Paestum & Velia pass, in promotion for 20 euros with which you can visit the two archaeological sites of Paestum and Velia freely for a whole year.
Information on Yoga classes in Paestum
When: from 30 June 2020 every Tuesday and Thursday
Where: Via Magna Grecia, 919 - 84047 Capaccio Paestum (SA)
Time: from 18: 00 19 to: 00
Price: subscription 20 euros
Contacts: info and reservations: to book the lessons on Tuesday contact Stefania: 3384777750 while to book the lessons on Thursday contact Luciano: 3383491264 | Official site